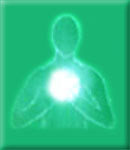 A Heart Clearing session can do wonders to refresh your sense of balance and personal clarity. If you have been experiencing tension and dizziness or loss of energy or constriction in the chest, throat or head, this single session will alleviate depression, confusion and out-of-balance symptoms.
This special alignment removes tension and clears and activates chakras, meridians and points between the solar plexus, the heart, throat and higher chakras to allow greater energy to flow. The work includes cranial-sacral alignment, deep tissue clearing, myofascial release, lomi-lomi, chakra balancing, and ancient healing methods.
Recipients regularly report a new sense of clarity and improvement in self esteem, self expression, and personal responsibility after this awakening session.
Each session: 1.5 hours

"I feel my body and mind conditions are both getting better. I feel that the seeds of irritation within me have been taken out. It is a joy to find the key to open something within me that I couldn't open before!"

Frequently Asked Questions
Q: Will this session focus only on the Heart?
A: To begin, your entire body will be energetically scanned to locate problem areas. The session will focus mainly on the upper front of the body to include most of the main chakras. Work will be done to enhance and deepen your breathing and clear the heart area of constrictions. The head and neck will also be cleared and balanced. The heart is modulated by all of these areas and can energize and open as tensions are released. A complete Bodywork session is often recommended for full body treatment.
Q: Is this session energy work only?
A: This session works both energetically and physically to remove tension that you may be carrying unconsciously. At times, you may fall asleep as you feel the tension releasing. At other times there may be some physical discomfort in areas where deeper tension is being stored. The work is always gentle, and often firm, to help you release historical body patterns.
Q: Where does this work originate?
A: I was shown that the work was possible during a healing by Angelic guides as they worked on my own heart area and twisted ribcage, due to a sky-diving accident that I had experienced. Although many bodyworkers had tried to adjust my ribcage and frame, only the Angels knew the solution. My energy and posture were both restored that same day.
Years later, after starting my own practice, I was led rather intuitively through several difficult whiplash, depression and emotional trauma cases. I began to "remember" certain movements and adjustments from the distant past, which developed into an approach to the heart and higher heart that is important now. Some clients say the work seems to have an Essene nuance from ancient times.

Impressions »


Please contact here to inquire or reserve a session for you.