Kyushu - Earth Dance Retreat
Takachiho - Heitate - Mt. Aso
January 11, 12, 13, 2003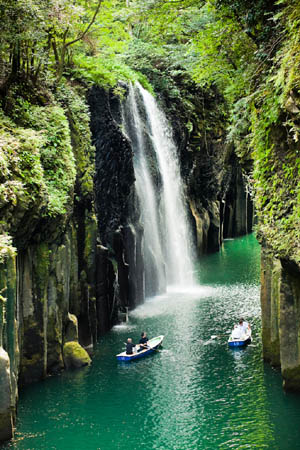 Each year we create an Awakening Journey to a special location in early January to bring in the New Year and retreat into nature. This year we have chosen the Takachiho area of Kyushu as our retreat destination, including Heitate Shrine, Takachiho Gorge, and Mount Aso. Join us for relaxation, adventure and quality time in nature as we explore some of the best sites in this scenic area.
Resonance with the seven elements of nature to sharpen our awareness will be a focus to practice. Talks, meditations and shamanic perspectives will be included throughout the retreat, plus plenty of sight-seeing time.
Sand Mandalas -- We will be creating personal mandalas as a meditation, using sand from many parts of the world to symbolically bring Earth energies together during the retreat. A ceremony at the top of Mt. Aso will send our mandala energies and goodwill to the Earth and the world at the start of this new era.
Gather around the hearthfire for charcoal cooking of delicious stew and other local fare in traditional style.
Explore the beauty and mystery of Kyushu with new friends and welcome the New Year refreshed in Nature!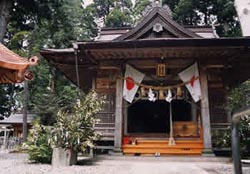 Heitate Shrine
At least one day of the retreat will be reserved for special ceremony and sharing our energies to honor the Earth, humanity, peace and abundance.
We are inspired to focus here to acknowledge and encourage a new movement from tribal consciousness in humanity to its next evolutionary stage.
See: More about Heitate Jingu »
Heitate Shrine has an ancient and mysterious past and enshrines 5 carved masks that symbolize the root races of humanity -- black, white, red, yellow and blue. The masks are very rarely exhibited in public. Their origin is steeped in mystery.

The history of the Blue Race is subject to much debate. Some attribute it to Northern Europe, others have found links to Lemuria and Atlantis.

See: The Blue People »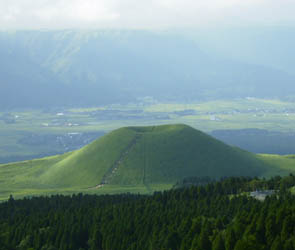 Retreat Schedule
(Schedule may change according to spontaneity and circumstance!)
1/11 - Retreat starts at 2:00 pm.
Heitate Shrine Earth Dance Ceremony.
Evening program - "Moving from Tribal Consciousness."
1/12 - Takachiho area, including the legendary Ama-no-Iwato cave where Sun Goddess Amaterasu-Omikami is said to have hidden. Evening program and Inner Journey.
1/13 - Mount Aso area. Communicating with nature and more shamanic practices.
Retreat ends at 3:00 pm.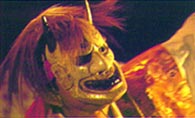 1/14 - Overnight formal Kagura performance - you may choose to stay an extra day to observe. Kagura dances are performed through the night in appreciation of a good harvest. The art form is designated as one of Japan's intangible cultural assets. The performances by these masked dancers lead the viewers into a mystic world of myths and legends.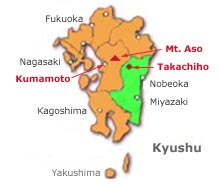 WHERE: Soyokaze Park Town - Kumamoto, Kyushu
http://www.s-kaze.jp/
WHEN: January 11, 12, 13
(11th from 2:00 pm 13th to 3 pm)
COST: 48,000 yen including accomodation and meals.
Facilitator: Flint Flintoft - Awakening Journeys Guide

Please contact us for reservation details »

A Few Scenes from the Kyushu Jan 2003 Retreat